Plans move forward for inaugural LIFTbuild project
Detroit's Greektown skyline will soon see a dramatic new addition – the neighborhood's first residential tower. Dubbed Exchange Detroit, the 16-story highrise project features 165 residential units, including 12 for-sale condos exclusively on the top two levels of the building; the remaining 153 units would be rental apartments.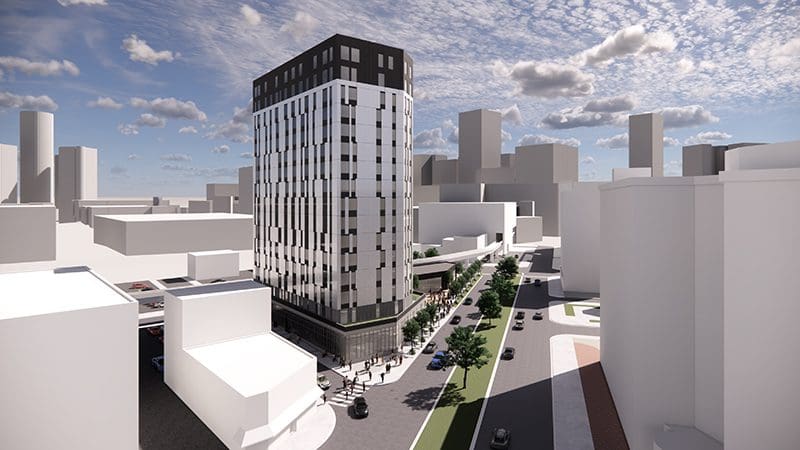 LIFTbuild, as well as being a member of the development team, is serving as general contractor for the Exchange project. LIFTbuild, a technology and construction services provider, is a subsidiary of Southfield-based Barton Malow. Dearborn-based Ghafari Associates and the architecture firm 1+1+, with offices in New York City, Ann Arbor and Chicago, are working as part of the design team.
Although the project has been slightly delayed due to the COVID-19 pandemic, Senior Director Marisa Varga is confident in Exchange moving forward. As reported in Crain's Detroit Business:
"We believe when we deliver this project, we'll be able to deliver residences to the city that are needed right now, and the timing should be really appropriate as businesses and organizations continue to pull through and recognize how to operate post COVID."
Utilizing LIFTbuild's innovative top-down construction assembly system, Exchange is set to break ground late 2020 with project completion scheduled for early 2022.
Subscribers to Crain's Detroit Business can read the original article here.
Exchange is also featured in the Detroit News here.